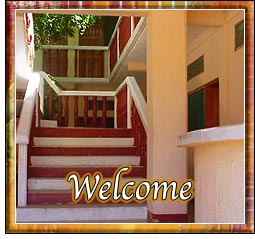 San Cristobal Hotel Zipolite
We are proud to offer the finest accommodations in the area at prices ranging from only $12 to $20 (United States Dollars).
Visitors to Zipolite know that the San Cristobal is the most popular place to stay for good reason. Our Hotel and Restaurant are located on the best section of beach right next to the main life guard tower where a nearby sand bar makes it possible to walk out quite a distance and still only have the water come waist high. Anyone in Zipolite will tell you that the San Cristobal is the finest lodging facility in town. But we believe that our staff, our location, the tropical ambiance of the interior gardens, and great food at reasonable prices are what makes the San Cristobal a favorite gathering spot that visitors from all over the world long to return to year after year.
So please, take the time to view our web site. We think you will agree that in an area full of hammock joints, stepping up to clean rooms with fans and a private bathroom will make your stay in Zipolite a more enjoyable one.