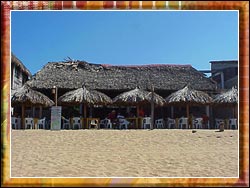 San Cristobal Restaurant
The San Cristobal is a long established restaurant and bar on the beach front which offers a large variety of meals to suit any taste. From Hamburgers to Octopus, the food is great, competitively priced, and service comes with a smile.
The guests at our San Cristobal Hotel come from all over the world, our International clientele enjoys being able to stroll over to the restaurant in the morning for a nice cup of coffee and a fruit bowl. And for those guests who enjoy a hearty breakfast, we offer French Toast, Beacon and Eggs, Traditional Mexican Breakfasts, and much more.
For lunch, the weary traveler can enjoy everything from a bowl of vegetarian soup to the best spaghetti carbonara in all of Zipolite. From calorie packed chocolate milk shakes to pure natural jugs of fresh mango juice, all of this and more can be enjoyed while listening to the majestic surf and watching the wide variety of sun worshipers that Zipolite inevitably attracts. If, however, this seems like too much for you, buy an ice cold beer or a delicious milkshake and lie back in one of the comfortable hammocks while being treated to a view of the seeminglyendless Pacific Ocean during the day, and at night, stars as numerous as the sand on the beach.