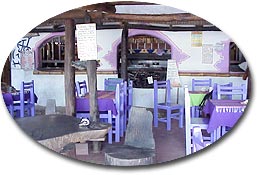 The Restaurant (located in the middle of the village with an open terrace around it) is the center of community activities. Coconut, palm, and papaya trees cover it from the hot afternoon sun so that guests may relax with a spectacular view of the bay and casually enjoy a cold drink or something delicious from our kitchen. Seafood and vegetable specialties such as healthy black beans, brown rice, tropical fruit plates, and drinks are all irresistible (non alcoholic beverages are served). Open for breakfast, lunch and dinner, food is prepared fresh each day and is very reasonably priced. Drinking water is purified by reverse osmosis. "El Bohemo", our coffee house and espresso bar, is a favorite late night meeting place for entertainment, art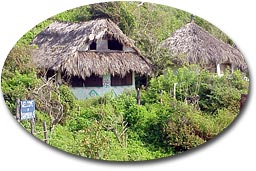 and discussions. During the day, share a specialty drink or board game with a new friend on the terrace overlooking intimate "Om Cove ".
Accommodations at Shambhala include hostel style bays with plenty of beds, rooms, and cabanas (some with private bathroom & shower). Bathrooms and showers are communal, but provide individual privacy. And we have a vault to keep your valuables safe.