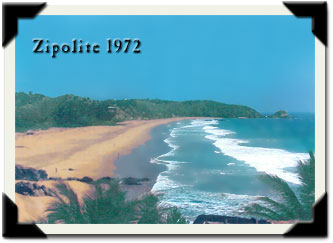 In 1970, Gloria Hope Johnson moved from Southern California to Puerto Angel with her two children and $300.00. They camped on Zipolite Beach. There on the beach, just below the hill that is now Shambhala, she fell in love with a fisherman and diver named Tomas Lopez. In the first 6 months, they saw two tourists.
Gloria became a Mexican citizen. In 1973, Gloria and Tomas married and bought the spectacular hill overlooking Zipolite. She Literally dug into the hill to build a restaurant and hammock place. The business began operation in 1975 under the "Arca de Noe."
A year later, Gloria began serving vegetarian food at the place on the hill and changed its name to "Shambhala." The name "Arca de Noe" was given to a new restaurant at the bottom of the hill (now used only as a palapa).
Although the 1800 acres of land behind Zipolite beach was owned communally, in 1970, the governor of Oaxaca illegally "sold" parts of Zipolite to private interests. With Gloria's help, the community protested and, on August 27, 1979, succeeded in having the land returned to the community.