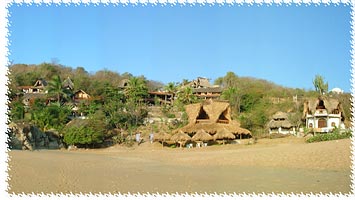 Imagine a far-off place somewhere in time -- where smiles warm like the rays of sunshine -- where friendships are born together in a common dream -- enjoying nature in all it's splendor, or simply sunbathing away the hours in an enchanted setting. A place where the pace you set is your own and where there are no strangers. The incredible skies, the dome of infinity, the energy from the earth, the never ending stars, the breath of the great wind and the waves of the sea. You can create your own reality. Shambhala is whatever you would like it to be. Nature is a oneness with the earth and a oneness with oneself.
Gloria's Shambhala is located in the state of Oaxaca on Mexico's pacific coast about sixty miles south of Puerto Escondido and three miles north of Puerto Angel in a small village called Zipolite.

One need only visit Shambhala to understand how the peaceful surroundings, laid back atmosphere, spectacular view, and soothing sound of the surf creates an environment which feeds the soul. Guests all seem to agree that the longer they stay, the harder it is to leave Shambhala. That's when we know that their memories of Shambhala will hold a special place in their hearts for the rest of their lives.