LOOKING FOR AN ADVENTURE OR A NEW LIFESTYLE?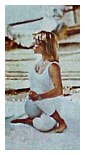 There is space and good will for any genuine spiritual self-awareness group to establish a long term presence here. In Shambhala living is not expensive, and most visitors arrive here "looking" for something. We are offering our property in Mexico for spiritual inner growth workshops; massage parlors, yoga, meditation, ceramics, painters, or any field which feeds the soul -- or anyone wishing to run a vegitarian restaurant.
Fax us ( 011-958-43151 or 011-958-43153 -- Attention: Gloria's Shambhala, Playa Zipolite, Oaxaca, Mexico) if you think we may have some common spiritual ground to work with. Visit us if you would like to open this door to another adventure in living. We have very basic facilities which may be expanded to accommodate your specific necessities.
We would like to attract visitors which may have visited an Ashram or Wat -- perhaps one who is looking to fill a hole in their life with spiritual inner-growth in this pristine natural environment.
If your curious. . . Join us. . . Let's talk. Who knows, this may be a fantasy dream come true.
Namaste, Gloria Esperanza.